Dark Chocolate Cake Bars with Matcha is an awesome addition to your chocolate recipes collection.
And since rumor has it that Dark Chocolate and Matcha are great sources of anti antioxidant, I feel more than OK to add this baby to my healthy living recipes folder. (thou I am pretty sure my doctor will not approve this message…)
Even thou these bars look Brownies there are very much not. This cake is light and fluffy due to the fact that the egg whites are first whipped and then folded to the batter.
The Matcha powder is dusted on the cake after is has cooled. Not only it adds a beautiful green color, it also enhances the dark chocolate flavors.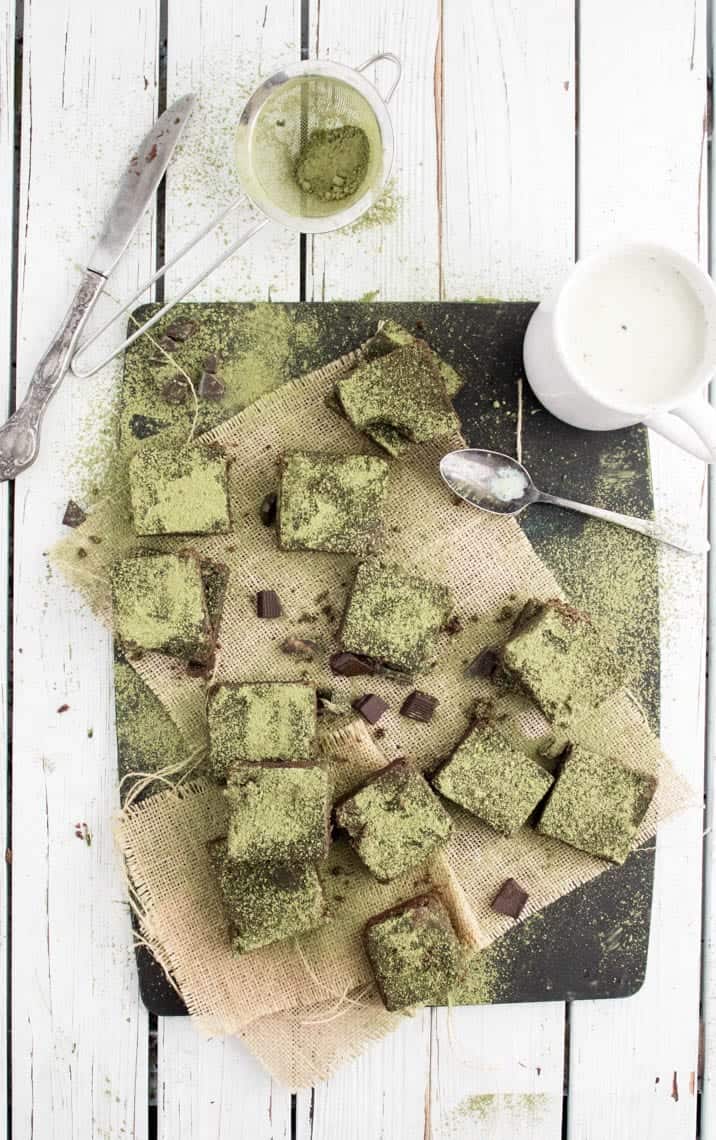 Chocolate Cake Bar With Matcha
Ingredients
1 1/4

Sticks

Untalted soft butter

(150 g /5.5 oz)

1

tsp

Vanilla Sugar

can use Vanilla bean paste instead

3/4

Cup

Sugar

(150 g /5.5 oz)

1 3/4

Packs, 3.5 oz each

Dark Chocolate (70% or 72%)

(170 g/6 oz)

3

Large

Eggs, seperated

2/3

Cups

Al Purpose Flour

(80 g / 3 oz)

1/8

tsp

Salt (2 pinches)

1

TBSP

Matcha powder
Instructions
Preheat oven to 350F and grease or line a 9" square pan with parchment paper.


Sift the flour and salt in a separated bowl and set a side.

Chop the chocolate and melt it in the microwave or on top of a boiling water.

Set aside.

In a bowl of a standing mixer, whip the butter and sugar and vanilla sugar until lighter in color and fluffy.

Stir in the egg yolks following the melted chocolate.

In a separate bowl, whip the egg white to a medium peak about 1 and a half minutes.

Fold in about 1/3 of the flour following 1/2 the egg whites. Repeat with the remaining flour and egg whites.

Pour the batter in the prepared pan and smooth with a spatula or the back of a spoon.

Bake in the lowest rack for about 20 minutes or from the center of until a skewer comes out dry from the center of the cake.

Allow the cake to cool completely. Gently remove the cake from the pan dust it with the Matcha Powder and slice to 16 pieces.
Recipe Notes
Make sure to add the Matcha right before serving. With time, the moist in the cake dissolve the Matcha and the green color disappears.