Last updated on May 7th, 2021.
Perfectly domed, soft and tender Wonder Cupcakes. These Almond Chocolate Cupcakes are loaded with flavors and are made in just 10 minutes.
This post is sponsored by Wilton. All thoughts and opinions are my own! Thank you for supporting the brands that help make One Sarcastic Baker possible.
There are two types of bakers in the world:
Type A: Clean, organized and have an impeccable talent of not losing a grain of flour. Members of type A wear an apron as a testimony of their tidiness.
Type ME! Messy (passionate), disorganized (enthusiastic) and always has white flour spots …well everywhere. Type ME never wears an apron to avoid extra laundry.
Songs, novels and Netflix original series were created to capture the beauty of our different worlds. But at the end of the day, we are all just the same. We just want to bake. And not do the dishes.
And that is what friends are for!
Our awesome friends at Wilton , created the new Versa-Tools, a line of kitchen tools that helps make a baker's everyday life, easy, simple and clean! (ok, for ME cleaner…but its a start).
Each gadget is an easy to use kitchen utensils that can be used for multiple tasks. This way you can use less tools which means…less dishes!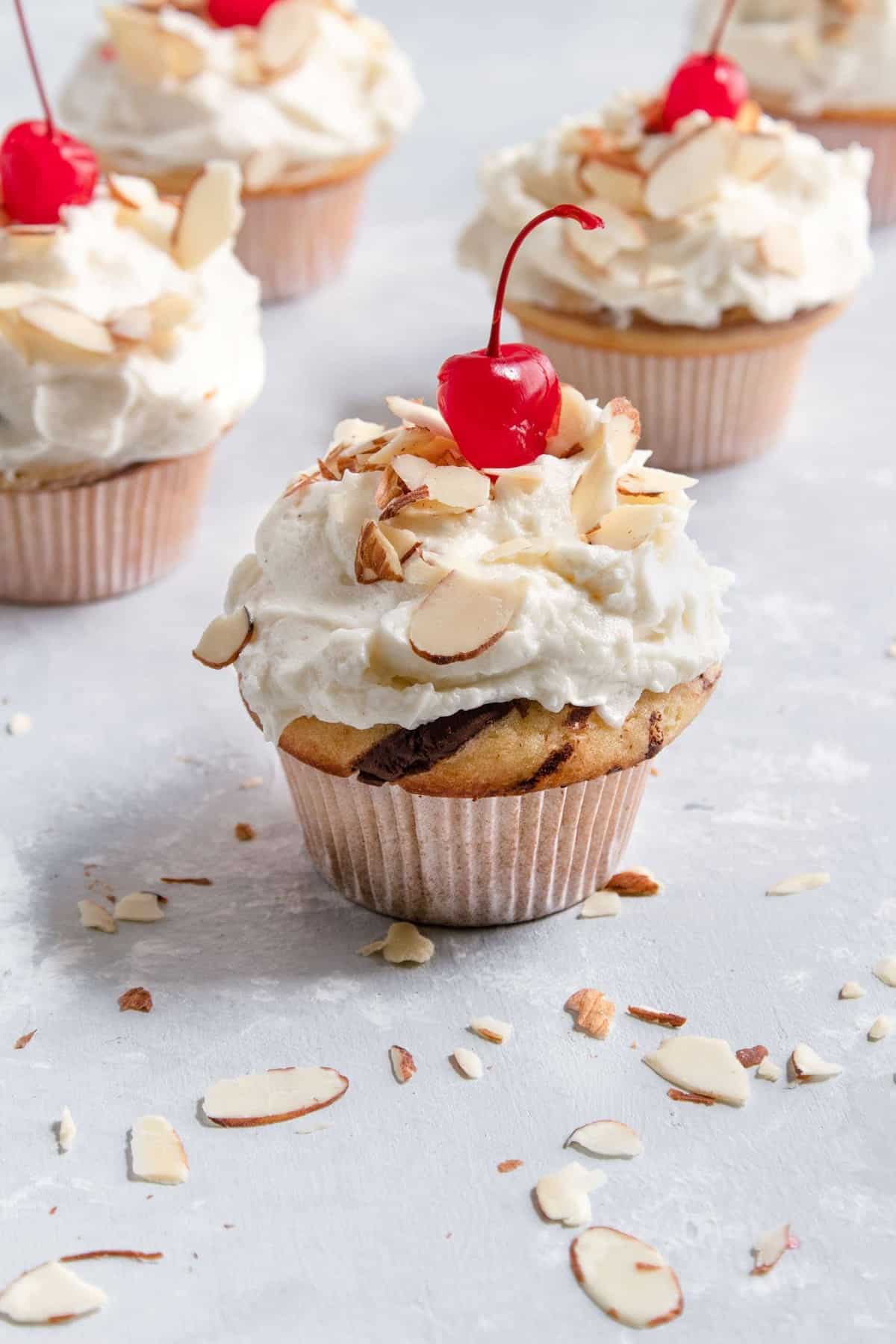 I like to refer to this recipe as " Wonder Cupcakes" for a few reasons. First, Wonder cake is a traditional Jewish pound cake , flavored with Almond paste and melted chocolate.
Second, it is a wonder how easy and fast this recipe is. Seriously, it takes less than 10 minutes!
And third, the dome of the cupcakes are so puffy, round and perfect one can not avoid but be in wonder!
To make these Wonder Cupcakes recipe, I used 4 utensils! 3 of them were from the Versa collection. The Measure & Pour Bowl, it has a measuring plug on the side (which means no measuring spoons.). Measure & Mix Spoon, I measured my liquids following the measuring guidelines on the spoon barrel, and was able to mix the batter with it. And the universal scraper, double sided spatula I used to fold the ingredients and spread the icing on the cupcakes.
Now Lets Talk About This Wonder Cupcake Recipe (Almond Chocolate Cupcakes):
It is all in the flour! The cake flour and AP flour (all purpose) combination is very important to create soft and crumbly cupcake.
For a high dome cupcakes, fill the cupcake liners all the way to the top!
Please make sure all the ingredients are at room temperature.
Baked donuts are a great way to use this recipe.
HAPPY BAKING!!!
Here are some more fun recipes you might enjoy:
One more thing…
Don't forget to tag @OneSarcasticBaker on Instagram if you bake this recipe. Would love to see your creations!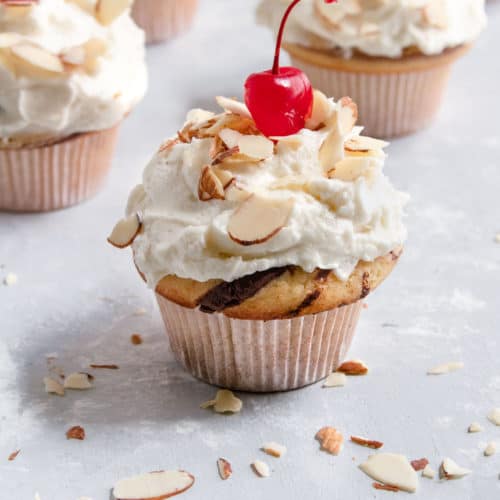 Almond Chocolate Cupcakes
Ingredients
3/4

Cup

Sugar

(150 g / 5.5 oz)

1/2

Cup

Light Brown Sugar

(100 g / 3.7 oz)

3

Large

Eggs

1

Large

Egg Yolk

1

Cup

Vegetable Oil

(200 g / 240 ml)

3/4

Cup

Milk

1

Cup

Cake Flour

(120 g / 4 1/4)

2

Cups

AP Unbleached Flour

(240 g / 8.5 oz)

1 1/2

tsp

Baking Powder

1/2

tsp

Salt

3-4

tsp

Almond Extract

1

Cup

Semi Sweet Chocolate chips

(170 g / 6 oz)

1

tsp

Vegetable shortening

2

Cups

Butter cream or fudge frosting.
Instructions
Preheat oven to 350F and line a cupcake pan with cupcake liners, set aside.

Melt the chocolate, add the shortening and stir to incorporate, set aside.

In a medium bowl, place the sugars and eggs and egg yolks and mix for about 1-2 minutes using a hand whisk.

Drizzle in the milk and oil and stir to combine.

Add the flour, baking powder and salt and mix to incorporate than add the almond extract. 

Mix until the mix is smooth and lump less.

Divide the batter between the the cupcake liners, fill each liner all the way to the top and drizzle 1/2 – 1 tsp of the melted chocolate.

Using a tooth pick, gently create swirls with the melted chocolate.

Bake in the middle rack for 18-20 minutes.

Remove from oven and allow to cool for 10-15 minutes before removing or frosting.